Since 2021, including the whole year of 2022, camping has become a new and hot way to travel during golden weeks and long holidays, including CCTV news and financial sectors have focused on the report, it seems that camping has become the first choice of every family holiday, but is it really so? In fact, in a sense, the camping fever is objective and a huge blue ocean for the tourism sector, but behind the camping fever is not only a "hot" word so simple, there are some phenomena that still deserve our attention.
Newgonow Group Shenxianju RV Campground
First of all, why is camping "hot", after 2020, due to the complex and changing situation of the epidemic, travel radius shortened, local tourism, peripheral tourism has become the main choice for tourists to spend weekends and holidays, less gathering of tourism has become one of the preferred travel, RV camping because of its less gathering characteristics, to a certain extent, so get a better In addition, the convenience of some short-distance camping is also favored by more families. According to some information from previous interviews with the author, many families gradually accept short-distance camping in the countryside as a new way of travel and leisure because of the convenience of camping and the closer distance to nature when choosing a weekend trip.
The blue ocean of the camping industry is obvious, but it does not mean that brainless investment will reap rewards. According to the data provided by the China Touring Car and Boat Association RV self-driving tour and camping RV branch, 2020 is a high growth period for the registration of camping-related service enterprises in China, but in fact, even so far the status quo of domestic RV camping is still generally not optimistic. According to the relevant statistics, at present, the total number of domestic model caravan campsites in camping is less than 500; while European countries such as Britain, France and Germany have more than two thousand formal and mature camping sites. The number of RV campsites is small, and the quality is not high, especially the foundation of RV camping culture is weak, which has become a bottleneck restricting the development of the industry.
However, the positive side is that governments around the world are increasing investment in RV campsites, introducing professional talents and implementing professional management. As long as along the right direction, step by step, the future still has greater potential for development.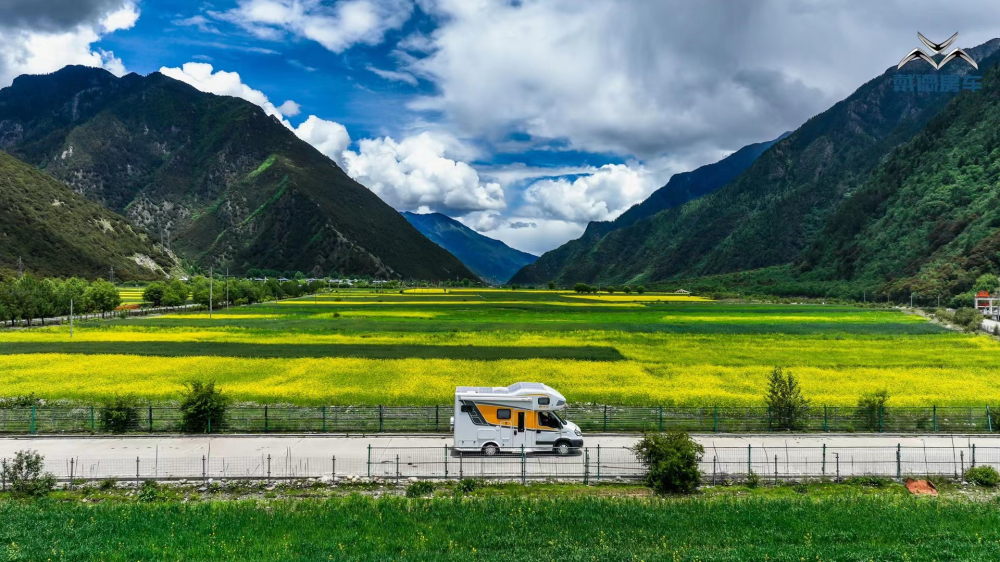 Dade RV Westbound
Camping has a better development potential, so where will our campgrounds go in the future?
According to the data support as well as analysis from the China Touring Caravan Association RV Self-Driving Tour and Camping Caravan Branch, it is predicted that there will be two business model directions in the future with the division of ownership and operation. The surge in the popularity of fine camping reflects the strong demand for leisure and social interaction among consumers, and there is a clear differentiation between asset-heavy and asset-light types in the campground industry, which will also lead to the future development direction of separating ownership and operation.
According to the search of "campground" POI points by Gaode, there will be 545 campgrounds in 2020, 563 in 2021, and 574 as of April 30, 2022; the number of campground POIs under all categories will be about 3,900 nationwide in 2020, and will grow to 5,048 in 2021. The growth rate is 3.3%, while the growth rate of campground-related POI reaches 29.44%. In addition, adding the campground enterprises in the lodging industry from SkyEye, the number of campgrounds in the lodging category nationwide as of April 30, 2022 is 1,591 (after de-emphasis). As of April 2022, there were 43,205 campground service enterprises in operation (with a growth rate of 244.00% in 2020 and 20,801 new registered enterprises in 2021, accounting for 93.1% of the new registered enterprises in the industry in 2021). China Touring Car and Boat Association RV driving and camping caravan branch expects that in the past two years, "exquisite camping" may appear bubble, while the heavy asset class camp will be stable development.
Recently, many global authorities have revised China's economic growth rate in 2023 upward to more than 5%, and some experts even assert that China will return to the top of the GDP growth rate in 2023. This fully reflects China's important position and influence in the world, as well as the authorities' full recognition of China's mega-market advantages and their unanimous bullishness on China's economic development prospects.
In the interpretation of the Government Work Report, "expanding domestic demand", "cultural and tourism integration" and "RV camping" have become hot words. With the optimization of the epidemic air defense policy, the huge domestic consumption base and growing consumer demand ushered in a long-awaited strong recovery. Culture, tourism and other industries are one of the important drivers of expanding domestic demand, and the exploration of "cultural tourism integration" has been a long time. In recent years, industrial integration continues to expand and deepen, has been extended to transportation, agriculture and other industries, multi-industry "integration" has become a major trend.
The new demand has given birth to a new industry. As a new type of tourism, RV camping, free from the restrictions of group travel, is highly sought after for its free and spontaneous characteristics closer to nature; RV camping and RV self-driving tours are generally regarded by industry insiders as the front runner of the recovery of cultural tourism in the coming period. Forecasts show that by 2025, the scale of China's camping economy will exceed 250 billion yuan; and the rise of RV camping will powerfully pry the development of trillions of cultural tourism industry.